Roger Gladei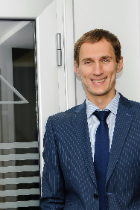 "We are what we repeatedly do. Excellence, therefore, is not an act but a habit"
(Aristotle)
Prior to founding G&P, Roger Gladei worked for many years as corporate lawyer in one of the best Moldovan banks. He started his career back in 1995 as junior counsel, and gradually went through all the steps of in-house legal career: Counsel, Senior Counsel, General Counsel, acting concurrently as Corporate Secretary, Head of AML Unit and member of various internal committees. He ended up the corporate career as Vice-President of the Bank.
Roger started his independent practice as Partner in a highly-reputable Moldovan business law firm. Over twelve years of professional activity, Roger has advised in a huge number of business projects, at all stages, from concept clearance and deal structuring to transaction documentation, closing and post-closing execution.
Roger Gladei is leading the firm's corporate practice. He gained particular acknowledgment for his banking expertise in a broad range of top-calibre projects including syndicated lending, co-financing, trade finance, project finance, property finance, debt restructuring and restructure of financially distressed companies, as well as structuring, creating and perfecting security in cross-border transactions.
As capital market expert (and acting member of the Council of Experts of the Moldovan National Commission of Financial Market), he is commonly invited to participate in drafting new legislation and speak at business forums. Roger Gladei is the co-author of the Commentary to the new Civil Code and contributed to the Guide of the Justiciary in Civil and Commercial Matters (on banking loan and banking guarantee, pledge and mortgage).
Other areas of his practice include Mergers and Acquisitions, Real Estate, Telecommunication and Competition.
Roger Gladei is licensed both in law and finance, and is currently completing his MBA at Grenoble Graduate School of Business. He is member of the Moldovan Bar Association.
Clients point out his "exceptional banking experience", finding him "reliable and positive, offering well thought-out and useful advice" and capable of "delivering results" (Chambers Europe 2008).